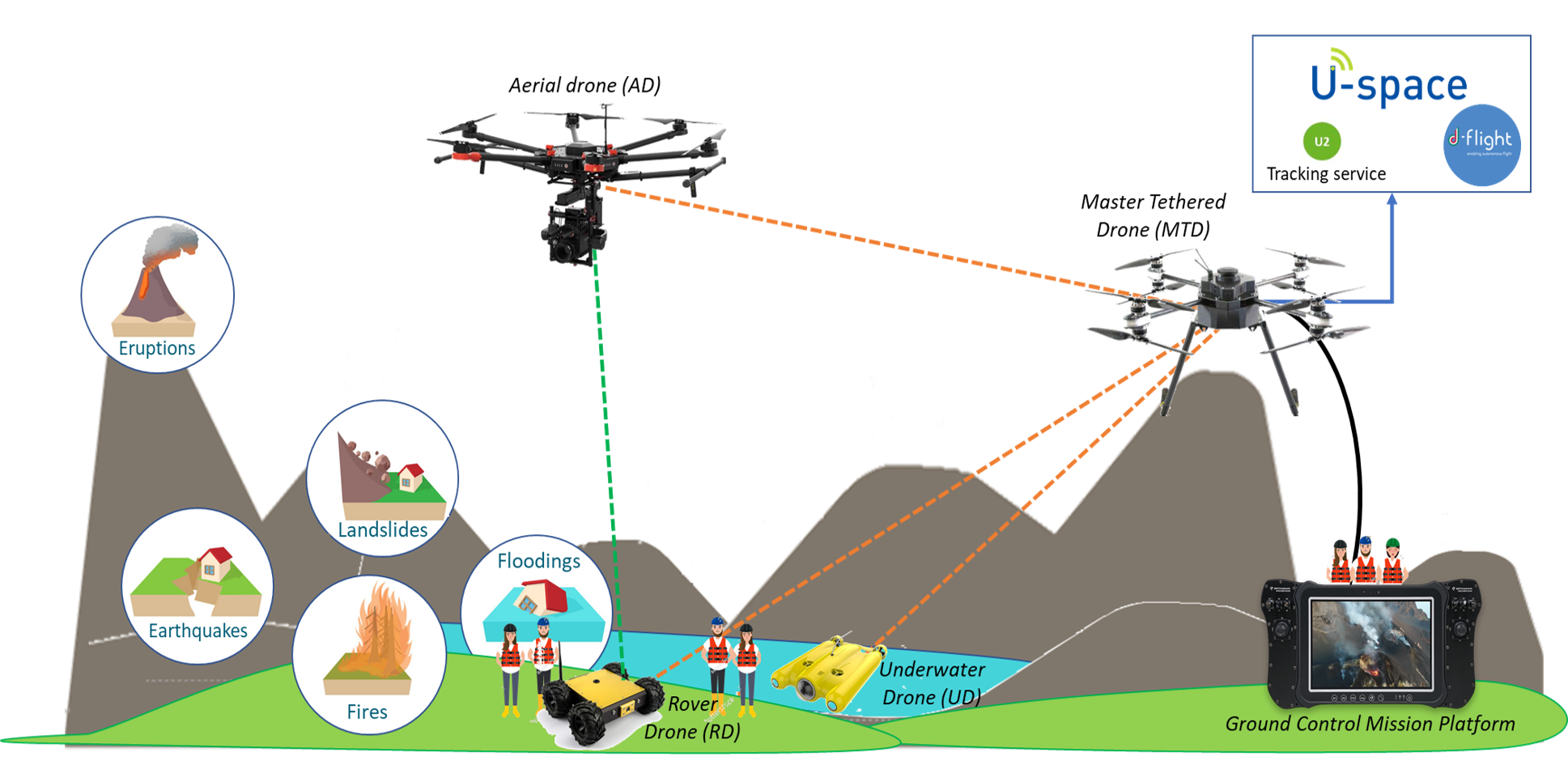 PATHfinder
The Civil Protection Centre of the University of Florence, as part of the National Italian Service of Civil Protection, has a firm reputation for its research expertise and operational problem-solving approach for safeguarding the integrity of life, goods, buildings and environment from any damage or risk of damage arising from natural and anthropic disasters. In such a context of emergency support, which includes design and implementation of early warning systems as well as application of advanced technologies and methods for first responder techniques for Civil Protection purposes, CPC-UNIFI asked collaboration to Sistematica S.p.A., TOpview s.r.l. and TSP s.r.l to build a solution in order to have early warning and persistent surveillance during disaster recovery and emergency response scenarios.
Accordingly, the aim of the proposed PATHfinder solution is to design and implement a cooperative system for challenging scenarios (difficult access and with a wide extension), with a large data flow generated by different sensors that may be used in parallel, with real-time and timely delivery information of the observed scenario, suitable for persistent surveillance, monitoring, emergency response and for the adoption of proper measures in response to severe disasters.
PATHfinder solution is based on the usage of a scalable fleet of tethered (MTD) /aerial (AD)/ underwater (UD) /ground rover (RD) drones providing situational awareness solutions in BVLOS scenarios

A validation campaign about PATHfinder paltform has been held in Stromboli, last September 2022 covering
– Independent Communication Infrastructure
The breakdown of essential communications is one of the most widely shared characteristics of all disasters. Whether partial or complete, the failure of telecommunications infrastructure leads to preventable loss of life and damage to property, by causing delays and errors in emergency response and disaster relief efforts. Yet despite the increasing reliability and resiliency of modern telecommunications networks to physical damage, the risk associated with communications failures remains serious because of growing dependence upon these tools in emergency operations.
– Context awareness
Situational awareness is the understanding of objects, events, people, system states, interactions, environmental conditions, and other situation-specific factors affecting human performance in complex and dynamic tasks. Situational awareness is simply "knowing what is going on so you can figure out what to do.
Emergency service providers must continually develop and hone their situational awareness so they are always fully aware of their environment. It is among the most important training you will ever receive in preparing for a mission or a career.
In the emergency services, you must be aware of your surroundings and fully prepared to handle situations that may arise that jeopardize your or your team's safety or effective mission completion. Without this awareness, you will most likely lose control of the incident and compromise scene safety.
– 3D reconstruction
Natural and man-made disasters that may take place due to a catastrophic incident (e.g., earthquake, explosion, terrorist attack) often result in trapped humans under rubble piles. In such emergency response situations, teams have to make quick decisions under stress in order to determine the location of possible trapped victims. Fast 3D modelling of fully or partially collapsed buildings using images from Unmanned Aerial Vehicles (UAVs) can considerably help, thus improving disaster response and increasing survival rates. The a-priori establishment of a proper workflow for fast and reliable image-based 3D modelling and the a priori determination of the parameters that have to be set in each step of the photogrammetric pipeline are critical aspects that ensure the readiness in an emergency response situation. This paper evaluates powerful commercial and open-source software solutions for the 3D reconstruction of disaster scenes for rapid response situations. The software packages are tested using UAV datasets of a real earthquake scene. A thorough analysis on the parameters of the various modelling steps that may lead to desired results tasks is made and indicative processing chains are proposed, taking into account the restriction of time. Furthermore, some weaknesses of the data acquisition process that have been detected by performing the experiments are outlined and some improvements and additions are proposed, including an initial preprocessing of the images using a graph-based approach.
Reliability
We provide accurate, reliable and ethical services with our expert staff. We apply the fastest and most reliable methods for your brand.
Loyalty
Our long-term work continues until the job is finished. We establish solid and long-term relationships with all the companies we work with.